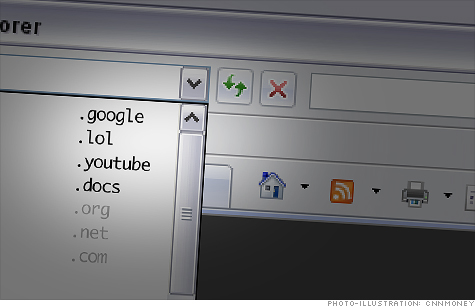 NEW YORK (CNNMoney) -- Internet addresses are about to expand way past .com and .org, and Google wants in. It applied to grab not only .google, but also fun suffixes like .lol.
The company said it would like to operate "domains we think have interesting and creative potential," citing .lol as an example.
Google (
GOOG
,
Fortune 500
) is just one of the hundreds of companies that have applied for new generic top-level domains (gTLDs) -- the ".com" part of website addresses -- in an upcoming massive expansion of the Internet's infrastructure. The full list of applicants, and their proposed new domains, will be announced on June 13.
Google revealed some of the gTLDs it's applied for -- .google, .youtube., .docs and .lol -- in a blog
post
published on Thursday. The company said last month that it had applied for some new domains, but it didn't go into specifics at that time.
In an interview earlier this month with CNNMoney, a Google representative said that the company expected to be one of the biggest applicants in the domain expansion process.
Google's top brass has a close relationship with the Internet Corporation for Assigned Names and Numbers (ICANN), the non-profit, global coordinator of the Internet's naming system. Vint Cerf, Google's "chief internet evangelist" and the author of Google's Thursday blog post, is the former chairman of ICANN's board of directors.